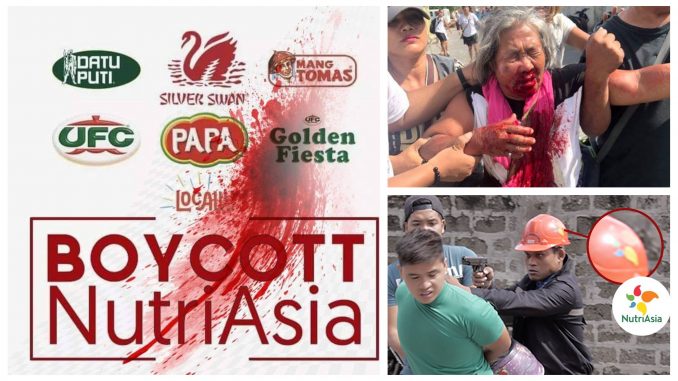 The striking workers of Nutri-Asia Philippines are appealing for your support. Please sign on here.
People Over Profit strongly condemns the brutal dispersal of around striking workers and their supporters yesterday, 30, July 2018 at the NutriAsia picket line in Marilao, Bulacan, Philippines.
According to news reports, forces from the Philippine National Police (PNP) and the NutriAsia's guards viciously attacked the striking workers and their support groups while they were holding an ecumenical mass. They started pushing and hitting the workers with shields and truncheons. Scores, including children, women and the elderly, were severely injured. Nineteen workers, their supporters, and journalists were arrested. Media personnel covering the incident were also threatened by the police and their equipment seized. The police and company security thugs planted fake witnesses and evidences such as firearms and drugs to implicate the workers and deflect responsibility for the violence. Photos and videos of the brutal dispersal can be seen here.
NutriAsia is one of the largest food condiment producers in the Philippines. It also exports its products to 28 countries across Asia Pacific, Middle East, Europe, and North America. Since June 2, NutriAsia workers under Nagkakaisang Manggagawa ng NutriAsia Inc. (NMAI) have installed their picket in front of the company's factory in Bulacan. However, the workers have been long been fighting for regularization and the right to form a union. They were also fighting against the company's illegal salary deductions, underpaid overtime work of 619 PHP (11.66 USD) for 12 hours, lack of health insurance, and other inhumane working conditions. According to NutriAsia workers, they are paid only 380 PHP (7USD) for an 8-hour work day so they often had to work for 12-16 hours to make ends meet. Their wages are further reduced by deductions for company uniforms and protective gear. They also do not receive the legally-mandated 13th month pay. Out of more than 1400 workers, only 100 workers are regular. Most of their workers are outsourced from agencies.
This is not the first time that state and NutriAsia colluded to break the strike. Despite the previous Department of Labor and Employment (DOLE) on February 28, 2018 ordering NutriAsia to regularize over 900 of its employees, NutriAsia claimed that the workers were not their employees but workers of the B-Mirk Enterprises Corporation. On June 14, the PNP and guards from NutriAsia violently dismantled the protesters' picketline. The case was brought to the DOLE in region III where the previous decision was overturned, in favor of NutriAsia in June 29, 2018.
POP calls for international support to NutriAsia's worker's strike and condemnation of the combined state and corporate violence inflicted on the workers. Below are some ways to show your support:
1.Support for the #NutriAsia workers' strike against illegal termination and contractualization by signing on to our statement here. Read this Bulatlat report http://bit.ly/2v1GXMc to know more. Also, this Rappler report http://bit.ly/2v18Vra
2. Boycott NutriAsia products in your place (see list of products here)
3. Send letters of concern/protest to NutriAsia CEO Joselito Campos. Tell him to repay the trust of consumers and to follow the law by regularizing all NutriAsia workers and stopping all his company's violent attacks against them: Email [email protected]
4. Ask your organization, student council, school, union, employees association, or even your local city/town council to express support for NutriAsia workers' just demands for regularization and for job security.
5. Contact the Philippine Department of Labor and Employment at +63025273000. Send a message message for Sec. Bello: "Secretary, please protect and help regularize all workers at NutriAsia."
6. Share news by alternative media sites Altermidya – People's Alternative Media Network, Bulatlat, Pinoy Weekly, Telesur, Rappler, and ask your local newspapers to feature the issue
Signatories
(As of 6 August 2018)
Women's Legal and Human Rights Bureau, Inc. (Philippines)
People's Coalition on Food Sovereignty
National Campaign for Sustainable Development (Nepal)
Bangladesh Krishok Federation (Bangladesh)
Centre for Human Rights and Development (Mongolia)
Asian Peasant Coalition (India)
Center for Environmental Concerns (Philippines)
INDIES (Indonesia)
Confédération Nationale des Travailleurs du Sénégal (Senegal)
Center for Women's Resources (Philippines)
Indigenous Peoples' Movement for Self-Determination and Liberation
Philippines-Australia Union Link (Australia)
Australian Manufacturing Workers' Union (Australia)
Punganay – Indigenous Peoples' Alliance in Cagayan Valley (Philippines)
Pax Christi Australia (Australia)
Amihan-National Federation of Peasant Women (Philippines)
GRAIN
Campaign For Peace & Democracy (Manipur)
Asia Pacific Research Network