The World Bank Group (WBG) has been promoting corporate interests ever since its establishment in July 1945. Together with the International Monetary Fund (IMF), it directly influenced developing countries into enforcing policies of liberalisation, deregulation, and privatisation in exchange for loans. Activists, grassroots leaders, and progressive think thanks have exposed these policies as anti-people, contributing to widespread displacement of farmers, pressing down of wages, and dispossession of indigenous peoples of their territories. Moreover, these loans are a burden to the public who are expected to pay through taxation and debt servicing.
WBG's policies are cementing neoliberal globalisation through the corporate capture of development. As countries are looking towards infrastructure development to boost growth, the WBG and IMF want to promote policies that will make private sector, especially corporations, profit-making easier and less riskier at the expense of people's rights. Likewise, these will also further enrich foreign transnational and multinational companies which often bag lucrative contracts to implement WBG-funded projects in emerging and poor economies.
People Over Profit analysed the major corporate contracts issued by World Bank in the top 10 borrower countries from 2008-2017. POP found out that out that except for India and China, contracts awarded to foreign TNCs/MNCs occupy a larger share of the top 10 largest contracts in these countries.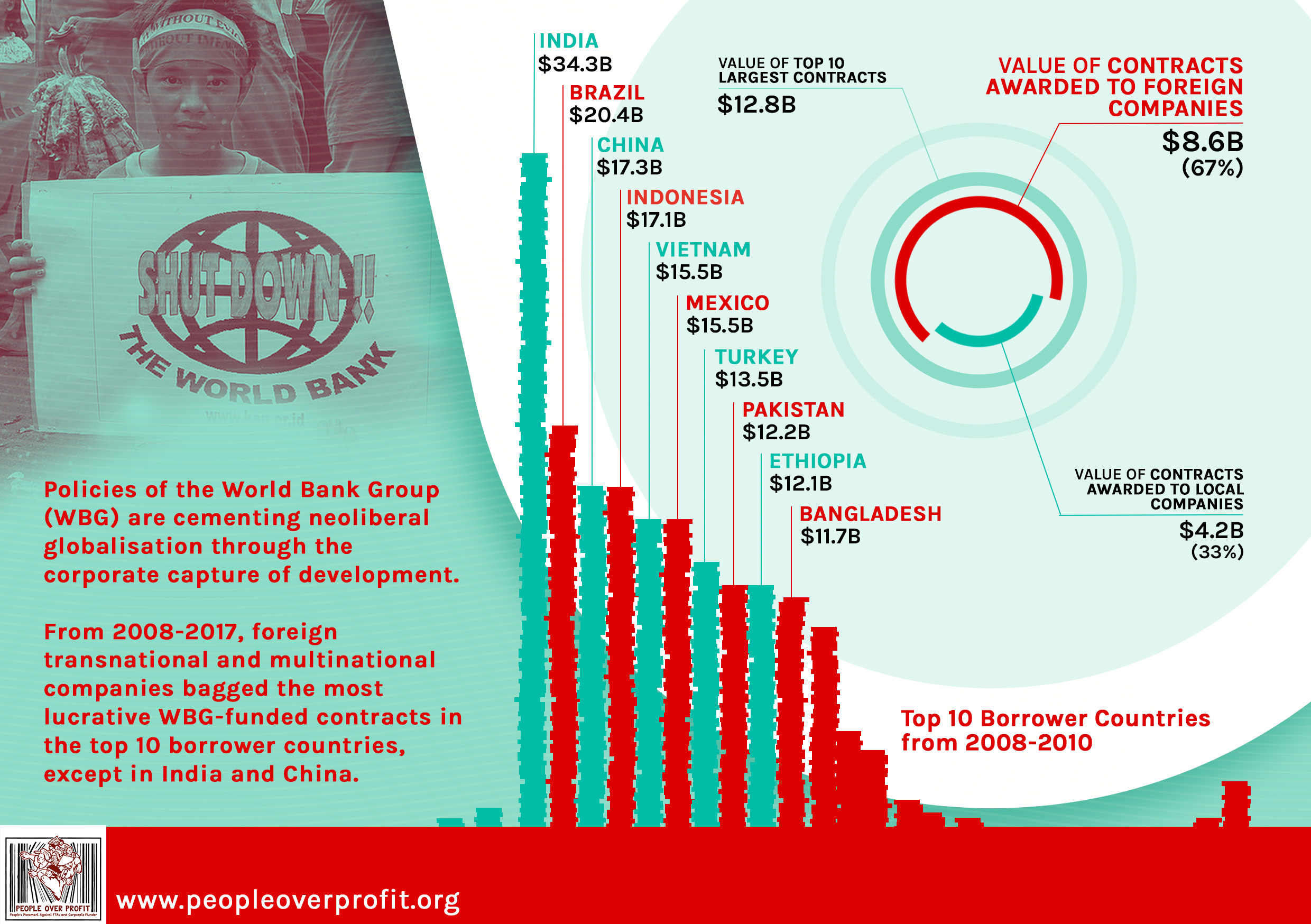 India
India is the top borrower both from IDA and IBRD from 2008-2017 (34.3 billion USD). Although the share of contracts awarded to local corporations is much higher, some of the most lucrative contracts are awarded to foreign multinational companies.
Here listed are the top 10 private sector suppliers (major contracts from 2008-2017). Alstom (French MNC), Aldesa (Spanish TNC), and Bombardier (Canadian MNC) are foreign contractors. The rest are headquartered in India.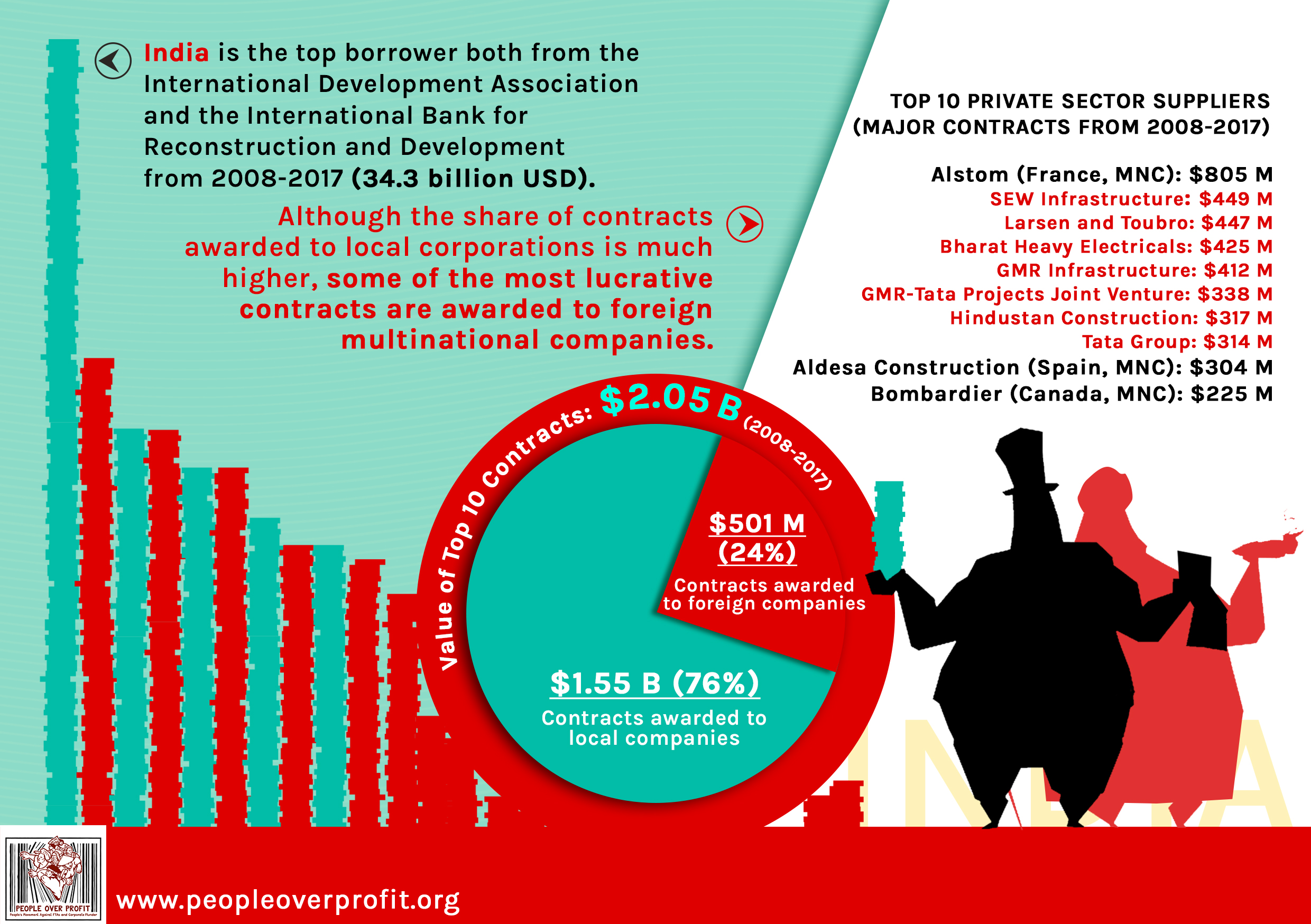 SEW Infrastructure, while headquartered in India, has extended its operations in Ethiopia, Indonesia, Oman, Uganda, and Namibia. Larsen and Toubro, which is engaged in technology, engineering, construction, and manufacturing, also has global presence and has offices in various countries in Asia, Africa, North America, Ocenia, and Europe. Bharat Heavy Electricals which is involved in power, industry, transmission, and transportation has projects in more than 100 countries across six continents. GMR Group which is involved in energy and infrastructure has presence not only in India, but also in Nepal, Indonesia, and Philippines (Mactan-Cebu International Airport was constructed through GMR and Megawide Consortium). Tata, an Indian MNC, also has projects and operations in more than 100 countries, across six (6) continents. Its range of products includes      airlines, automotives, various consumer goods, chemicals, defence and aerospace, electrical distribution, engineering services, financial services, healthcare, information technology, locomotives, real estate, steel, and telecommunication. Hindustan Construction Company specializes in hyrdo and nuclear power, water distribution, and transportation.Alstom is a French MNC focused on transportation and power transmission. It has presence in 21 countries across the globe. Aldesa Construction is one of the largest construction groups in Spain and Mexico. Headquartered in Madrid, the company has projects in Mexico, Poland, Peru, India, Romania, Norway, Spain, and Slovakia. Bombardier is a multinational transportation and aerospace company headquartered in Montreal, Canada. It has production and engineering sites in 28 countries across six continents.
NEXT: Brazil