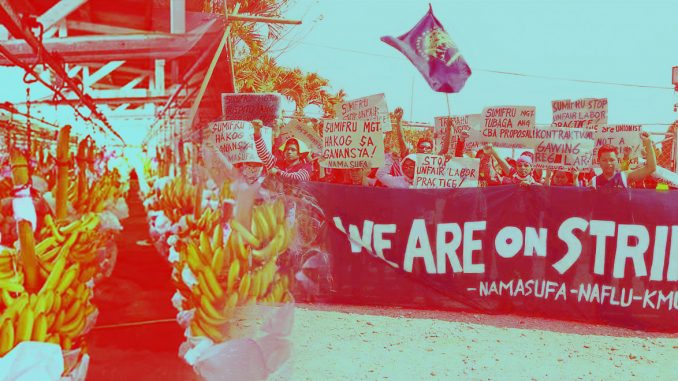 People Over Profit strongly denounces the violent dispersal of the striking workers at the Sumifru Philippines Corporation in Compostela Valley, Mindanao.
On October 1, around 900 workers of the company in Compostela Valley to demand the company to engage them in collective bargaining and regularization of their tenure. On October 11, several workers under Nagkahiusang mga Mag-uuma sa Suyafa Farms (NAMASUFA) of Sumifru were wounded in after around 300 unidentified men accompanied by the members of Philippine National Police and Armed Forces of the Philippines attempted to disperse the strike camp. According to (NAMASUFA) president Paul John Dizon said almost all union members were hurt in the brutal dispersal that the police allegedly justified through the preliminary injunction issued to the strike.
However, the dispersal was carried even after the Regional Trial Court 11 Branch 56 of Compostela Valley dismissed the issuance of preliminary injunction filed by Sumifru on October 6.
"Those responsible for the violent dispersal should be held liable. The dismissal of the preliminary injunction is a welcome move as it protects the worker's right to strike. The preliminary injunction is heartless and unjust as it sought to protect the company's PhP 38 million (USD) 703,741daily revenues from the workers' strike who only earn an average of PhP 365 (USD 6.7) a day," says Ivan Phell Enrile, coordinator of People Over Profit.
Sumifru-Philippines is an affiliate of Japanese Sumitomo corporation. It is engaged in sourcing, production, shipment and marketing of various fresh fruits, primarily the export Cavendish bananas, pineapple, and papaya to China, Japan, South Korea, Middle East, New Zealand, and Russia. It has been operating in the Philippines since the 1970s. It has several plantations and packing plants in different locations of Mindanao including Compostella Valley, Surigao, Agusan del Norte, and Bukidnon. It packing plant located in the AJMR Agro-Industrial Economic Zone in Davao City enjoys several tax incentives. Sumifru has continued aerial spraying of pesticides even after several petitions against the practice. Reap Mindanao Network also alleges that the company's plantations have encroached into the lands of indigenous peoples.
On October 13, delegates of the Peoples' Global Conference (PGC) Against IMF-WB condemned the violent attacks on NAMASAFU striking workers. According to the PGC statement, "multinational companies like Sumitomo Fruits Corp. (Sumifru) deliberately repress and disrespect labor rights with ease due to neoliberal policies crafted by International Financial Institutions (IFIs). Governments dependent on IMF-WB loans has enabled monopoly capitalists financiers to land grab, implement anti-worker policies, and environmentally-destructive operations."