The World Bank Group (WBG) has been cementing neoliberal globalisation through the corporate capture of development. It has made profit-making easier and less riskier for transnational and multinational companies which often bag lucrative contracts to implement WBG-funded projects in emerging and poor economies.
In this 2nd installment on our series of infographics on the World Bank, People Over Profit analysed the major corporate contracts issued by World Bank in Brazil, the second highest borrower from 2008-2017.
Data from WB shows that more than half of the top 10 biggest contracts during the same period were bagged by foreign MNCs and TNCs.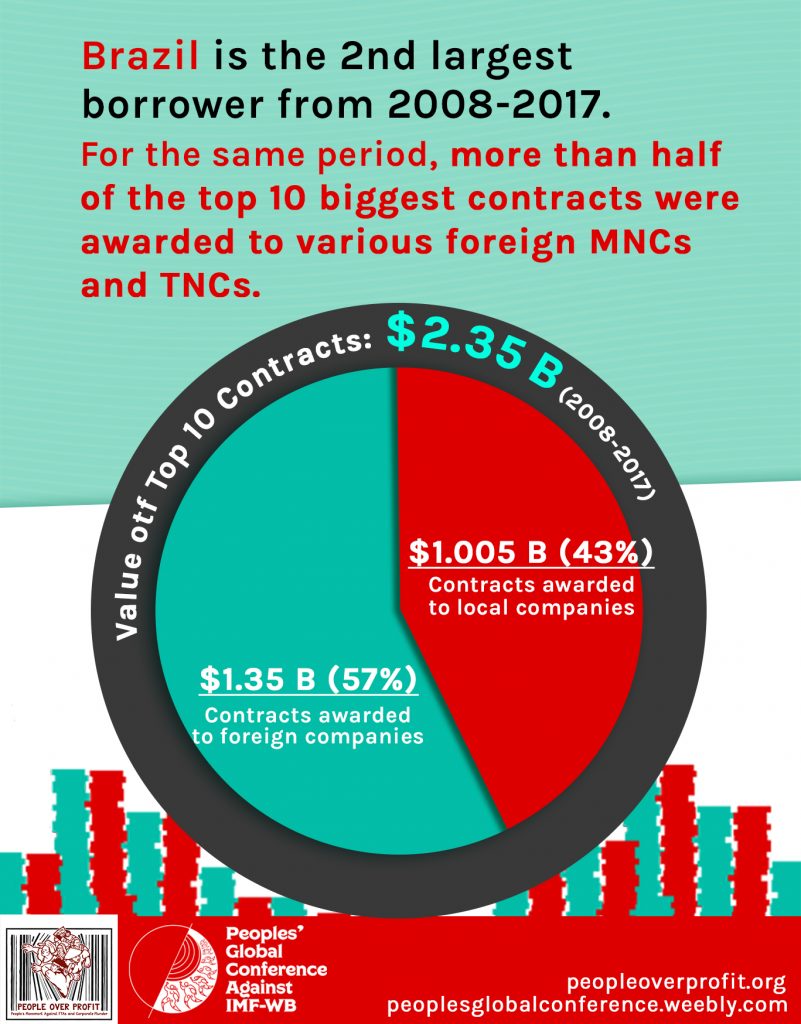 Construcciones y Auxiliar is a multinational construction company from Spain involved in producing railway vehicles and equipment. Aside from its headquarters, it also has production sites in France, US, Mexico, and Brazil. It also operates projects in more than 30 countries around the world. Alstom is a French MNC focused on transportation and power transmission. It has presence in 21 countries across the globe.Corsan-Corviam Construccion is a Madrid-based construction group of Isolux-Corsan. It focuses on building roads, railways, airport infrastructure, hydraulic and maritime works, and residential and non-residential building and renovation. It has projects and offices across North and South America, Europe, Africa, Middle East, and Asia. China National Machinery Import and Export Corporation is a Chinese international engineering contractor and a subsidiary of China General technology Group. It focuses on energy infrastructure, railway transportation, building materials, shipbuilding, among others. It has a business network in more that 160 countries worldwide and aims to leverage on the One Belt One Road project to further expand its market. CNR Changchun Railway Vehicles is a Chinese company mainly engaged in development, production, and maintenance of highspeed trains and other urban mass transit vehicles. It has offices in Iran and Pakistan, and has projects in Zimbabwe, Egypt, Libya, Sri Lanka, Bangladesh, Turkey, Thailand, South Korea, New Zealand, and Australia. Bombardier is a multinational transportation and aerospace company headquartered in Montreal, Canada. It has production and engineering sites in 28 countries across six continents.
Constructura Norberto Odebrech, Mendes Junior, and Barbosa Mello are Brazilian construction companies. Both have extensive experience in building ports and airports; bridges; hydroelectric powerplants; and infrastructure for energy, and sanitation. Odebrech has presence in 16 countries across North and South America, Europe, Middle East, Africa, and Asia. Meanwhile, Mendes Junior has projects in South America, Africa, Middle East and Asia (Mauritania, Iraq, China).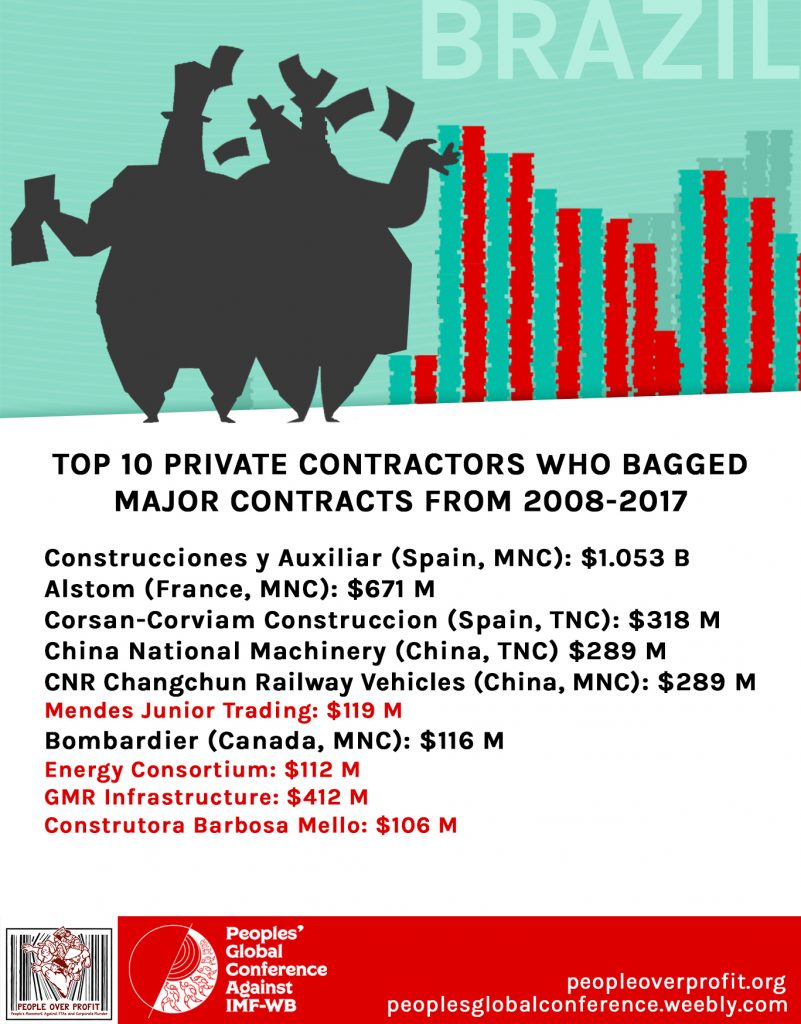 NEXT: China
Previous: India