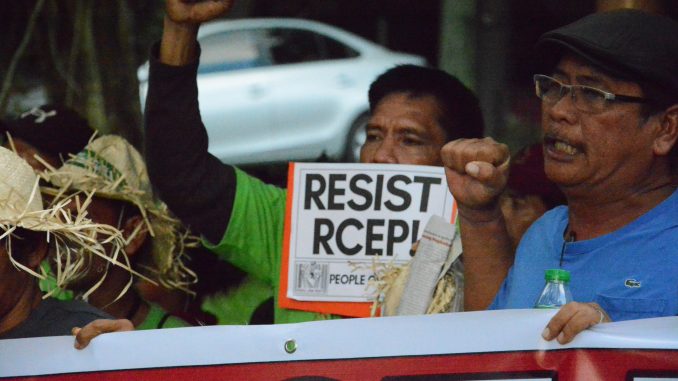 Quezon City — Various civil society groups and movements in the Philippines came together for a public forum to voice out their opposition to the Regional Comprehensive Economic Partnership (RCEP), a mega free trade agreement between 10 Asean member countries and their trading partners China, Japan, Australia, New Zealand, South Korea, and India. Titled "Day of Action against RCEP", the forum was held in time for the RECP Ministerial Meeting in Manila happening from Sept 5 to 11.
"RCEP is a reinforcement of the prevailing destructive development model that has wrought havoc on the Philippine industrial and agriculture sectors for decades. RCEP has nothing new to offer to our people except greater poverty, inequality, and exploitation. We demand the Philippines' withdrawal from the RCEP and similar free trade agreements as they imperil peoples' rights, national economic development, and sovereignty," according to Arnold Padilla of Ibon Foundation.
 A secret trade agreement for corporate control and plunder
During a dialog facilitated by the Department of Trade and Industry last Sept 4, trade officials flatly rejected appeals made by civil society to gain access to official documents.
"The public up to now remains left in the dark since RCEP is being brokered behind closed doors. This is untenable. RCEP is of public importance, and the people have the right to know. The government's deafening silence amid growing clamor for accountability and transparency reveals the anti-democratic essence of RCEP," said Ivan Enrile of People over Profit.
The leaked text of the RCEP draft text opened a Pandora box of the incredibly damaging consequences of the proposed trade deal.
The controversial investor-state dispute settlement (ISDS) mechanism in RCEP that allows corporations to sue governments in foreign tribunals is assailed by civil society and people's organizations as a way for corporations to challenge regulations and policy actions that they may deem as conflicting to their right to profit, and claim taxpayers' money to boot.
"Environmental justice advocates are opposed to the introduction of an ISDS mechanism in RCEP since a significant number of dispute cases filed by corporations against RCEP countries are environment related. RCEP will be a stumbling block to efforts to protect the environment against foreign corporate plunder and abuse", said Owen Migraso of the Center for Environmental Concerns (CEC). Farmers groups were worried that the RCEP would be the final nail in the coffin for the Philippines' declining agriculture sector "RCEP markets have already been opened up for the Philippines in past bilateral and regional FTAs. And yet, the promise of growth and development of the agricultural sector remains undelivered. Meanwhile, the flooding of agricultural imports have resulted in the destruction of livelihoods of many smallholder farmers and increased poverty in the rural areas", according to Kilusang Magbubukid ng Pilipinas  (KMP) Vice Chairperson Joseph Canlas.
Indigenous Peoples from all over the country taking part in the annual Lakbayan ng Pambansang Minorya were also present in the forum and argued that RCEP will further their dispossession and marginalization. "We are alarmed at provisions in the RCEP that will give right to foreign investors on agriculture and mining to purchase vast tracts of lands. Already, thousands of Indigenous Peoples in Mindanao are being displaced and their leaders killed by state forces and private armies to allow corporations to freely access our resource-rich territories," according to Piya Macliing Malayao, secretary general of KATRIBU.    Dr. Jojo Carabeo of Health Alliance for Democracy (HEAD), meanwhile, gave a stern warning against RCEP's negative impacts to people' right to health. "Around 70 per cent of the domestic drug industry is dominated by transnational drug cartels. RCEP's provisions on patent extension and data exclusivity will entrench Big Pharma's control over the Philippine drug industry, weaken competition from generics, and make life saving medicines more costly for the poor majority" said Carabeo.
RCEP, according to Finesa Cosico of Agham, would forfeit the country's prospect for national industrialization. "RCEP will not bring genuine national development to the Philippines as it reinforces trade liberalization under the framework of the General Agreements on Tariffs and Trades. The Philippines experience with WTO saw little national industrial development but a continuous influx of foreign trade and investments with no support for building local strategic industries." said Cosico.
Ana Celestial of Computer Professionals Union (CPU) raised red flags over RCEP's far reaching impacts on digital freedom and innovation. "RCEP provisions that seek to ease regulations protecting citizen as well as national data will have serious repercussions for privacy and security on different levels. Furthermoe, RCEP's will worsen the digital divide as provisions to protect intellectual property rights and push trade liberalization in the telecommunications and digital sectors will make digital services and equipment costly for most Filipinos," she said.
Reject RCEP!
Participants to the forum vowed to intensify their efforts to block the RCEP through information campaigns and mass actions. To conclude their program, they marched along the University Oval in UP Diliman, Quezon City to manifest their opposition to the proposed trade deal.
"It is only our collective action that will ensure the people's victory against RCEP and other poisonous trade deals," according to Enrile.