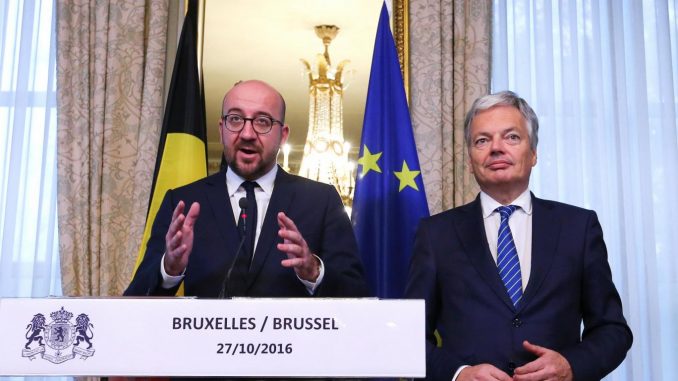 Belgium has reached an agreement with its regional powers to back a landmark free trade deal between the EU and Canada.
The Comprehensive Economic and Trade Agreement (Ceta) could be signed within days if adjustments made by Belgium are approved by the other 27 EU nations.
Canadian Prime Minister Justin Trudeau was supposed to sign the agreement today at a summit in Brussels, but cancelled his trip after the small Belgian region of Wallonia stalled the negotiation process by rejecting the deal.
"Belgian agreement on Ceta. All parliaments are now able to approve by tomorrow at midnight. Important step for EU and Canada," tweeted Belgian Prime Minister Charles Michel.
Donald Tusk, President of the European Council, said he welcomed the news, but would only contact Mr Trudeau "once all procedures are finalised for EU signing Ceta".
Belgium was not able give its assent to the deal, which has taken seven years to negotiate, without the backing of the French-speaking Wallonia region.
Wallonia, which is smaller than Wales and home to just 3.5 million people, voted 46 to 16 against the deal because of fears local workers would be laid off if the agreement leads to cheaper farming and industrial imports.
The deal's proponents say it would yield billions in added trade through customs and tariff cuts and other measures to lower barriers to commerce.
Paul Magnette, the president of Wallonia, said he was sorry he made Canada and Europe wait, but insisted "what we achieved here is important".
"We always fought for treaties that reinforced the social and environmental standards, protect the public services and that there is no private arbitration," he told reporters. "All this is achieved as of now."
"I am sorry for all the other Europeans we made wait and for our Canadian partners. But if we took a bit of time, what we achieved here is important, not only for Wallonia but for all Europeans," said Mr Magnette.
Source: http://www.independent.co.uk/news/world/europe/ceta-canada-eu-trade-deal-belgium-justin-trudeau-charles-michel-a7382851.html