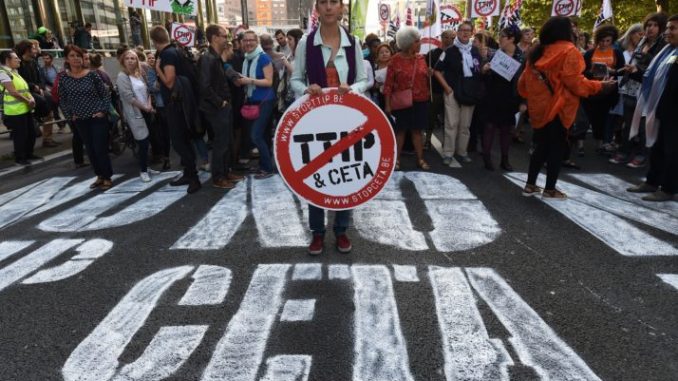 The Walloon parliament Friday voted by a large majority to reject the CETA deal, adding to the threat that the EU's landmark agreement with Canada will be killed and undermining Brussels' ability to steer the world's biggest trade bloc.
Lawmakers who represent Belgium's French-speaking community of Wallonia voted by 46-16 in favor of action that would prevent Belgium's federal government from having full powers to sign the Comprehensive Economic and Trade Agreement.
The vote took place two days after another regional assembly, the Federation of Wallonia-Brussels parliament voted to shoot down CETA in part because of worries that the deal could allow multinationals to sue governments.
Under Belgian laws, all five regional governments must approve trade deals like CETA before the federal government can give consent. So the pressure is now on for Belgian Prime Minister Charles Michel, who will need to come up with an alternative plan to approve the deal or leave the EU unable to gather the signatures of all 28 EU countries before an EU-Canada summit October 27.
Paul Magnette, the Wallonian regional minister-president, told MPs a few minutes before the vote that he would "not give the full powers to the federal government and Belgium will not sign CETA on October 18."
"I don't consider this as a funeral, I don't consider this as a veto without any conditions," Magnette said. "I consider this as a request to re-open negotiations so that European leaders could hear the legitimate demands which have been forcefully expressed by an organized, transparent civil society."
French President François Hollande will meet Magnette at the Elysée on Friday afternoon to convince him not to reject CETA.
At a parliamentary debate prior to the vote, several anti-CETA lawmakers said they were in favor of reinforcing their country's trade relationship with Canada, but they criticized the current version of CETA for giving overwhelming power to multinationals.
"We approve to go deeper in our trade with Canada," said Olga Zrihen, from the Belgian socialist party. "But we say no to the text that has been put to us under this format."
In the current text, Zrihen said, "the sphere of influence of public powers will be reduced in favor of multinationals." Belgium would not accept seeing administrations and lobbies "decide on environmental norms," she added.
The text "is unacceptable as it is now," said Marie-Dominique Simonet, from the centrist Humanist Democratic Centre party, calling CETA "a burning issue for society."
Another anti-CETA lawmaker, Helene Ryckmans from the Green party, called on the EU to cancel the EU-Canada summit on CETA later this month, and "put back the general interest at the heart of all international treaties."
Pro-CETA lawmakers including Virginie Defrang-Firket from the center-right Mouvement Reformateur criticized the parliament veto on CETA, which she described as a "modern" and "progressive" trade deal.
---
This article was originally published in www.politico.eu: http://www.politico.eu/article/walloon-parliament-rejects-ceta-deal/